New Limit Detector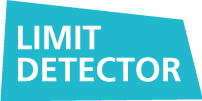 Limit Detector – Foods have limits, remove yours!
Only 2 clicks to get contaminant limits which are into force in your target market on your food commodities.
An easy-to-use tool to detect your limits and export your products without concerns.
Why Limit Detector?
I need to export my product in US. Is it compliant as regards contaminant levels?
Set Limit Detector on your food commodity and select US as target market. You will get a complete list of all the limits into force in the US.

You will get a complete list of all the limits into force in the US. 
You can filter per contaminant and you will get your answer in a couple of clicks.
I need to export in more than one country. Is my commodity compliant in all of them?
Select all the markets you are interested in, focusing on your food product.

The output page will report all the limits in law in all the markets: easy data to compare!
Eventually, download the limits you are interested more in and share it with your quality team.
I need to know as soon as possible a contaminant's limit changes in my target market!
Set the right parameter in Limit Detector to run a normal search.

Then mark the output as Notification to receive an email alerts in case of any change in any maximum limits listed in that page.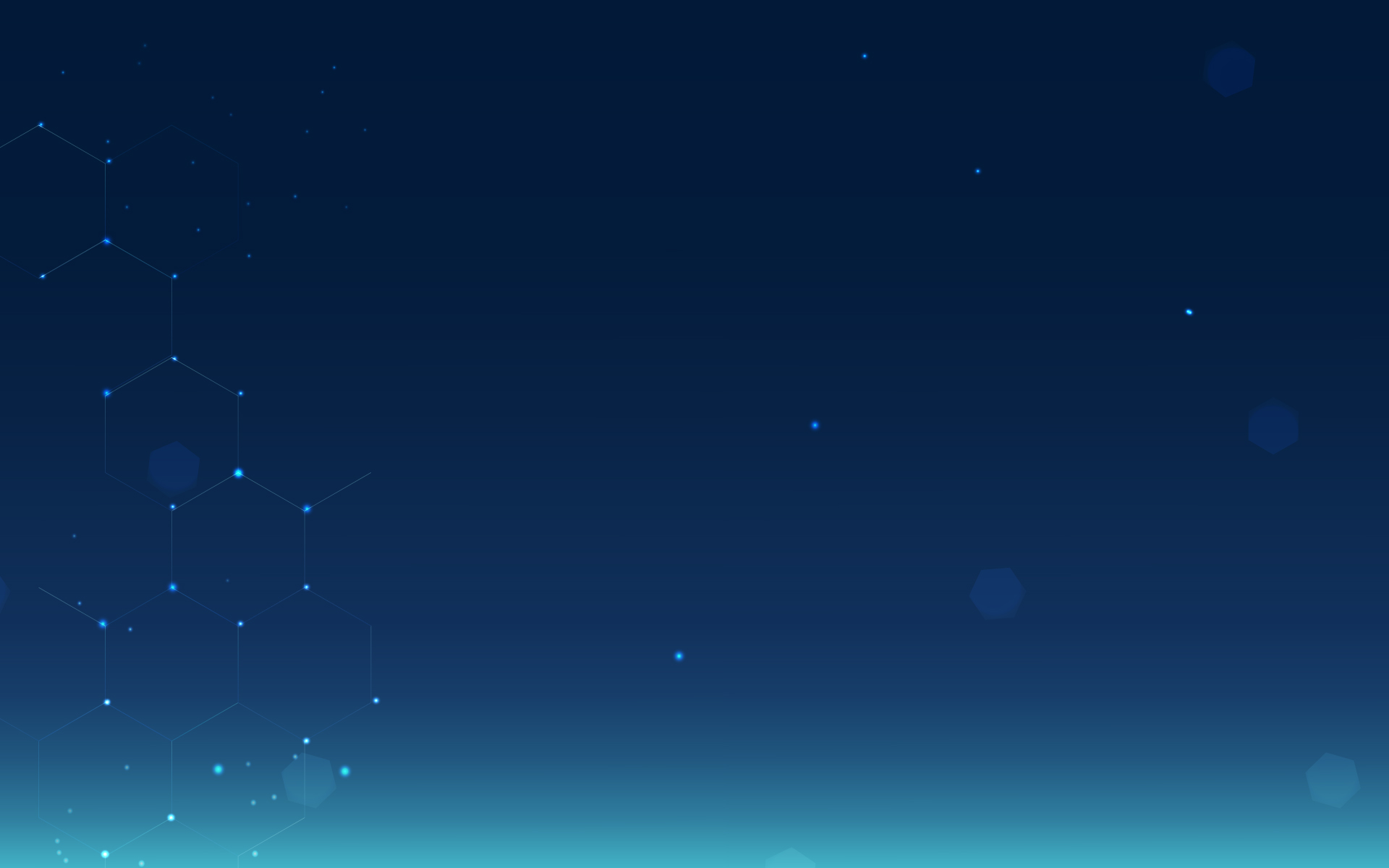 EC Regulation 1881/2006 repealed: impact on chemical contaminants limits
Regulation (EC) no.1881/2006 –defining the maximum levels of some contaminants in food products– was repealed as it had already undergone numerous and substantial changes; the Commission deemed it appropriate to replace it since more are needed. Commission Regulation (EU) 2023/915 entered into force on May 25th, 2023. Limit Detector team is already working to update the whole system (more than 2,000 data points are impacted) and all the new requirements will be available soon. In the meanwhile, we recommend to refer to Commission Regulation (EU) 2023/915.
What you can find in Limit Detector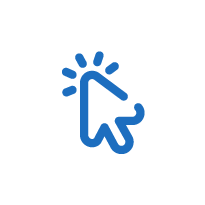 Limits of law in a few clicks
Set your target market, food product and/or contaminant. With just 2 out of these 3 parameters you immediately access to a clear table with all the applicable limits and possible comparison of cross-country legislation.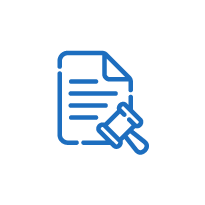 Regulatory based data
Mérieux NutriSciences "Food Compliance Solutions" constantly monitors vertical and horizontal legislations to provide latest regulatory limits.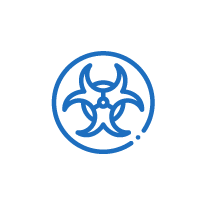 Contaminants for all food commodities
Chemical (except pesticides) and biological contaminants are included in the tool for each available market. Each limit has a regulatory reference.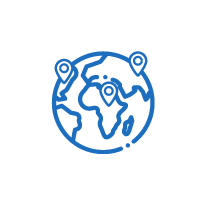 Many markets to come
Codex, EU, US and many EU member state legislation are already part of Limit detector. In the next future many more markets will be part of the scope of the tool.
Features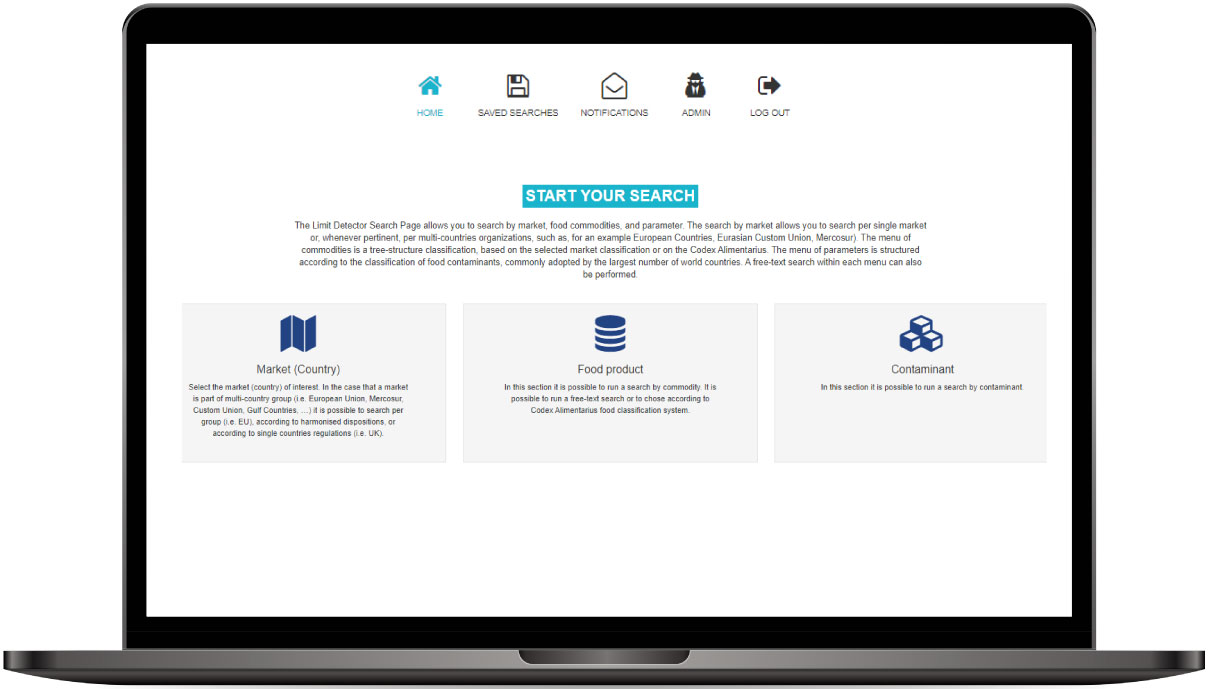 Easy search engine
Three buttons to select markets, food commodities and contaminants. By clicking 2 out of 3 you will get filterable results!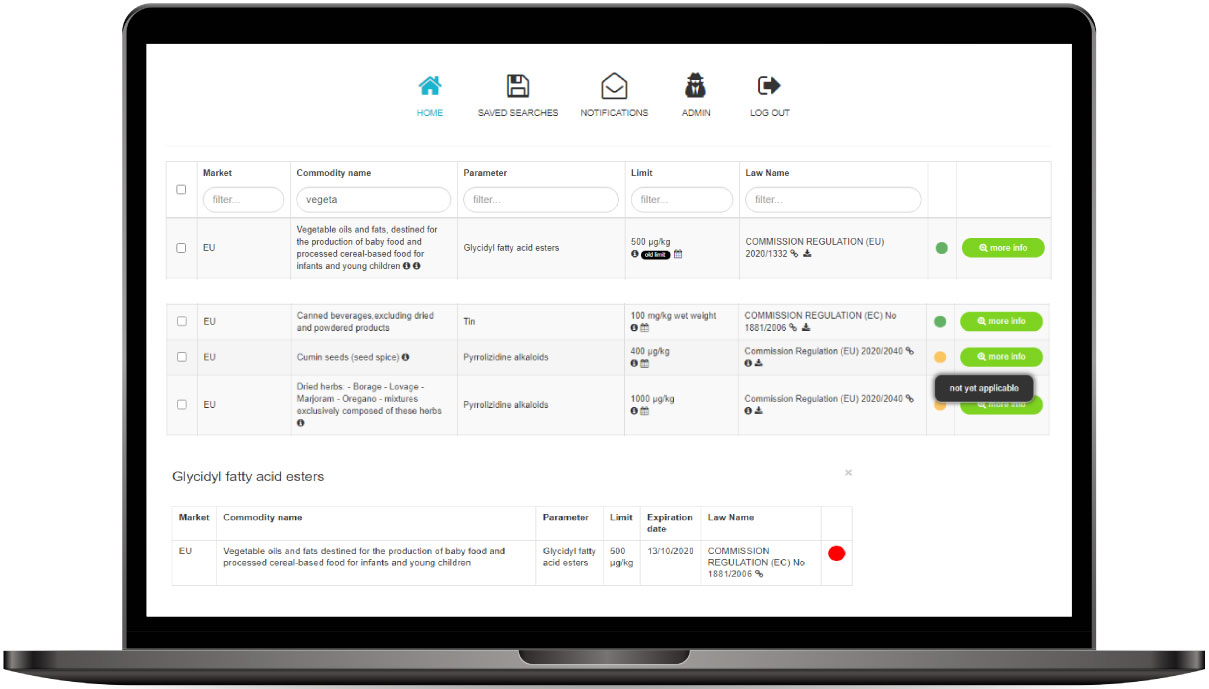 Track limits history
A clear legenda to make it clear if a limit is into force or out of law, with a clear indication of last date of validity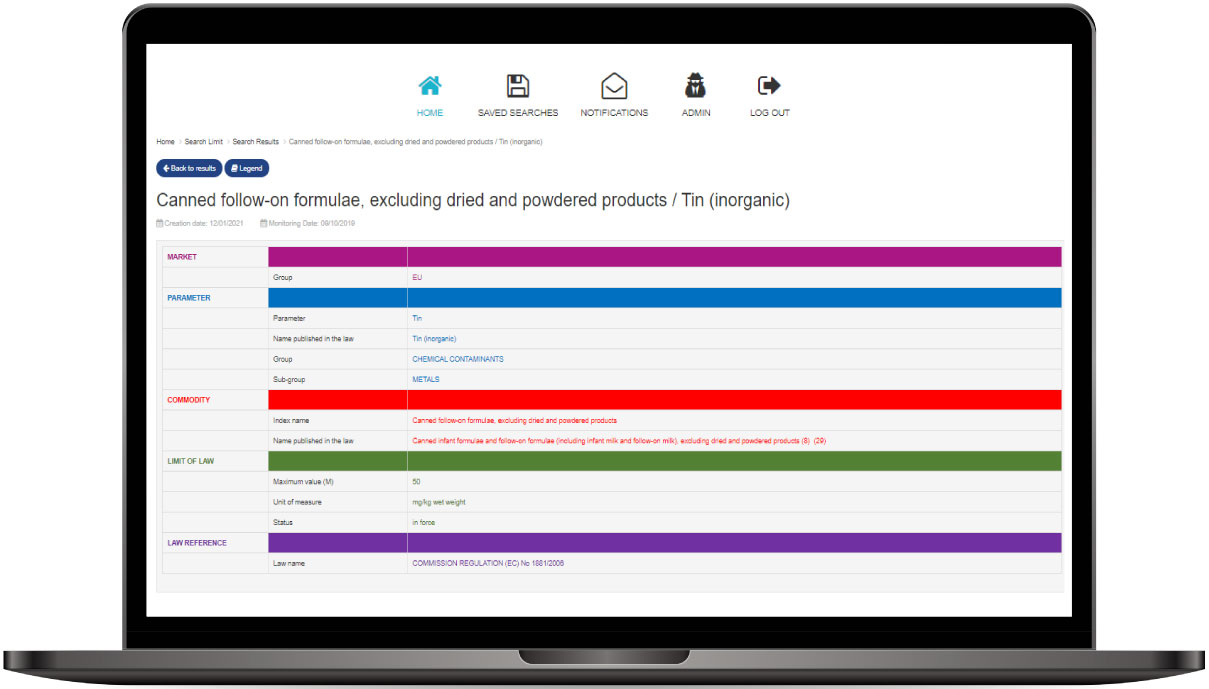 Many more information
Additional information are delivered for any limit: regulation name, download the regulation, CAS number and much more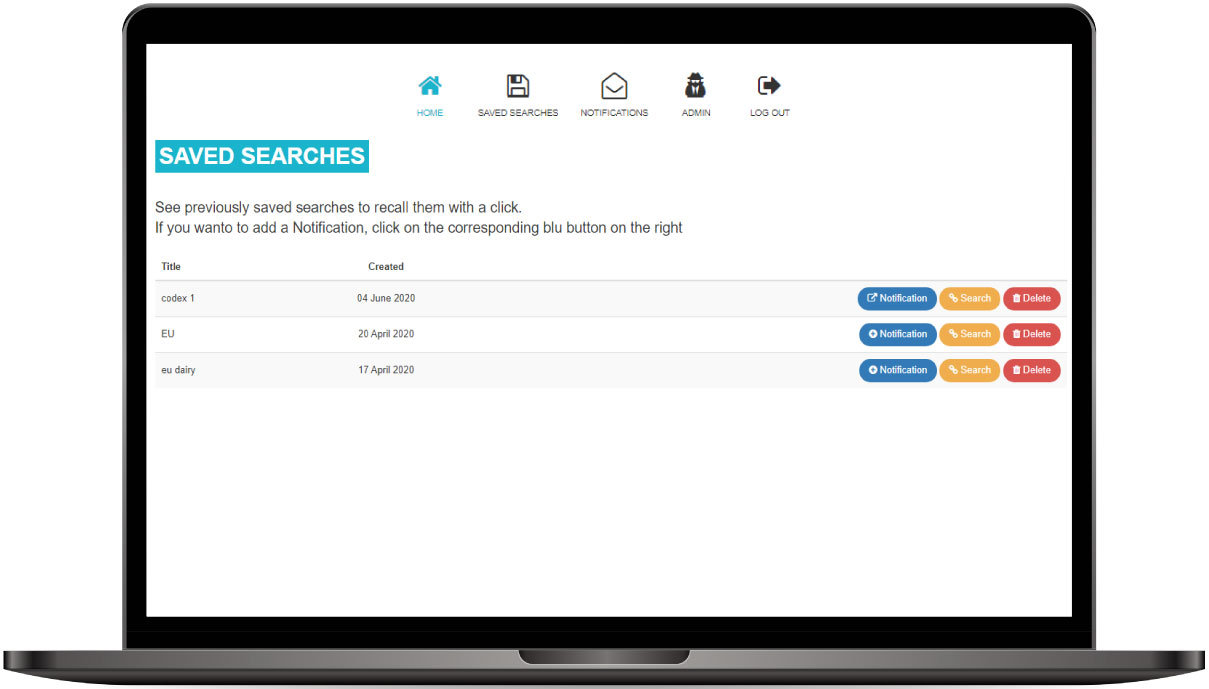 Push alerts
To immediately be alerted if a limit of law that appeared in a search you run, will change in the future. An email will inform you automatically
But there is more
Codex as a reference
Codex Alimentarius is an international reference for food legislation development worldwide.
Limit Detector considers Codex Alimentarius as an ideal Market with its own regulation set and each single Market has a correspondence to Codex list.
Commodity name and published name
The tool makes you regulations easy to read.
If a law establishes a limit for a determined part of a commodity, this data will be clearly readable.
XLS Download
You can download up to 50 limits of laws per year in xls format. Get a 10 days free-trial now