Regulatory Update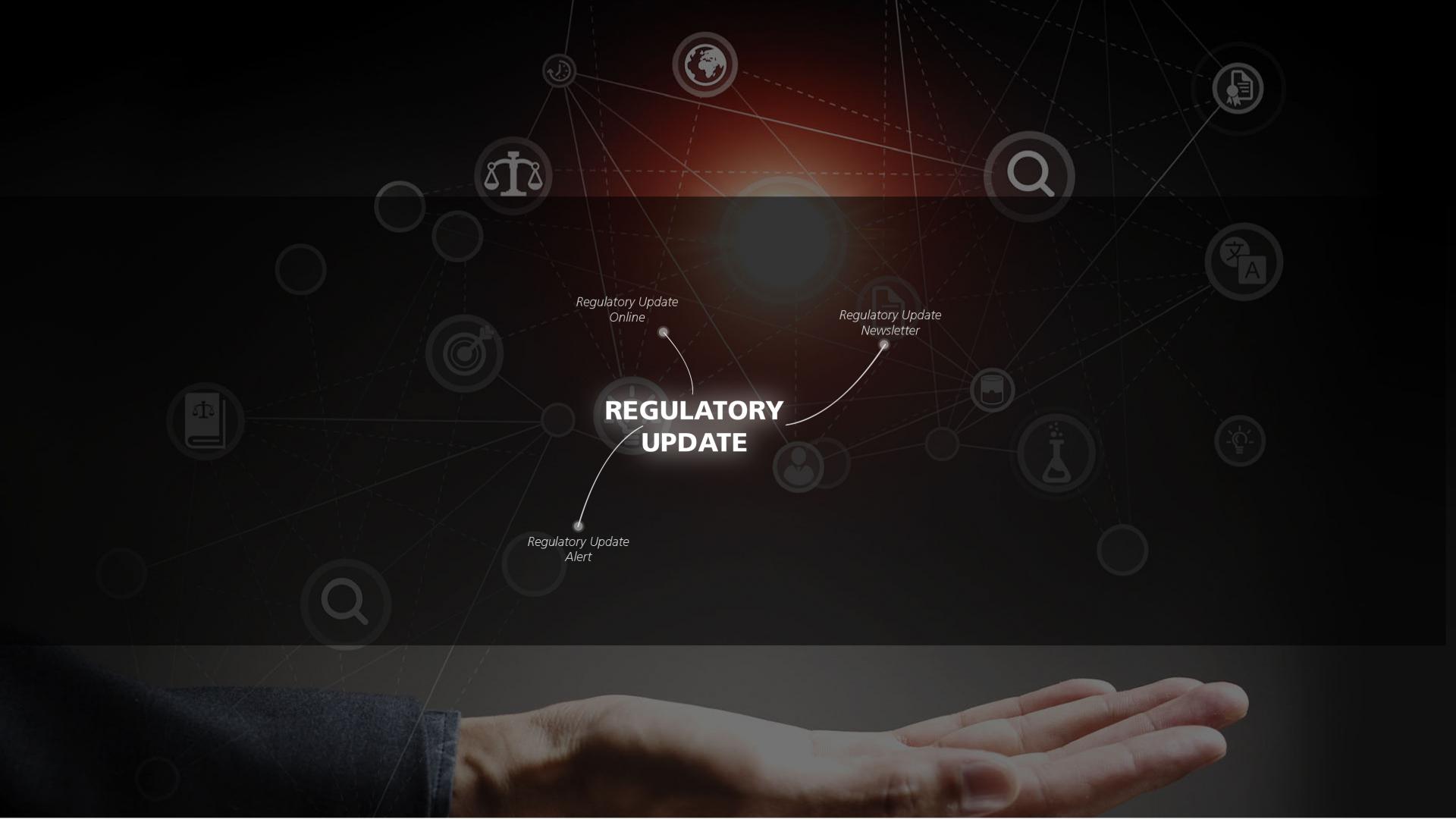 Regulatory Update
Online platform monitoring and analyzing the regulatory framework in Food and Consumer Goods in 73 Countries. 
Every new rule published on Official Journals are updated within 10 days of norm enactment.
The service is tailored according to customer's parameters. 
Two products:
Regulatory Update Online / Food: dealing with Ordinary and Special Foods - Available for 76 regulatory scenarios

Regulatory Update Online / 

Consumer Goods: dealing with Consumer Goods (only for: cosmetics, detergents, medical devices, materials in contact with foodstuff, other consumer goods) - Available for EU+28 EU member states
The platform provides the following information:
Country where the rule is issued

Product category affected by the rule 

Source and type of rule

Clear and comprehensive summary of the rule 

Sanctions envisaged in case of non-fulfilment

Date of coming into force
The Archive:
The system allows refining the search among the news published on the following parameters: 
Year of issue

Country 

Product category

Conformity parameters
The archive enables you to examine all news from 2015 until today. 
All news from 2001 to 2015 are available for subscribers under request.
Regulatory Agenda
Subscribers can also enjoy a calendar service to search which updates will become effective in a specific timeframe.
Combinations of Countries (only for Food):
In Regulatory Update Online / Food it is possible to narrow your subscription according to the geographical area you are interested in monitoring:
Local + EU (EU Regulation)
EU (all EU members + EU Regulation)
Europe Complete (included EU Regulation)
Extra EU European Countries
Extra European Countries
Asia-Pacific
Maghreb & Gulf Countries
Far East
North America 
South America 
Eurasian Custom Union
International (it includes all the 73 Countries).
Service available for:
Qatar
Portugal
Poland
Czech Republic
Romania
Serbia
Russia
Oman
Netherlands
Malta
Malaysia
Luxembourg
Mexico
Montenegro
New Zealand
Norway
Slovakia
Slovenia
Hungary
Ukraine
E.U. (European Union)
South Africa
Spain
Sweden
Switzerland
Turkey
Albania
Lithuania
China
Canada
Bulgaria
Cyprus
South Korea
Denmark
Croatia
Brazil
Bosnia Herzegovina
Australia
Argentina
Saudi Arabia
Austria
Bahrein
Belarus
Belgium
Latvia
Egypt
Indonesia
India
Hong Kong
Ireland
Israel
Kuwait
Kazakhstan
United Arab Emirates
Greece
Finland
Estonia
France
Germany
Great Britain
Japan
U.S.A.
Italy
Request a quotation