AGRI-FOOD INDUSTRY AND ECO-SUSTAINABLE DEVELOPMENT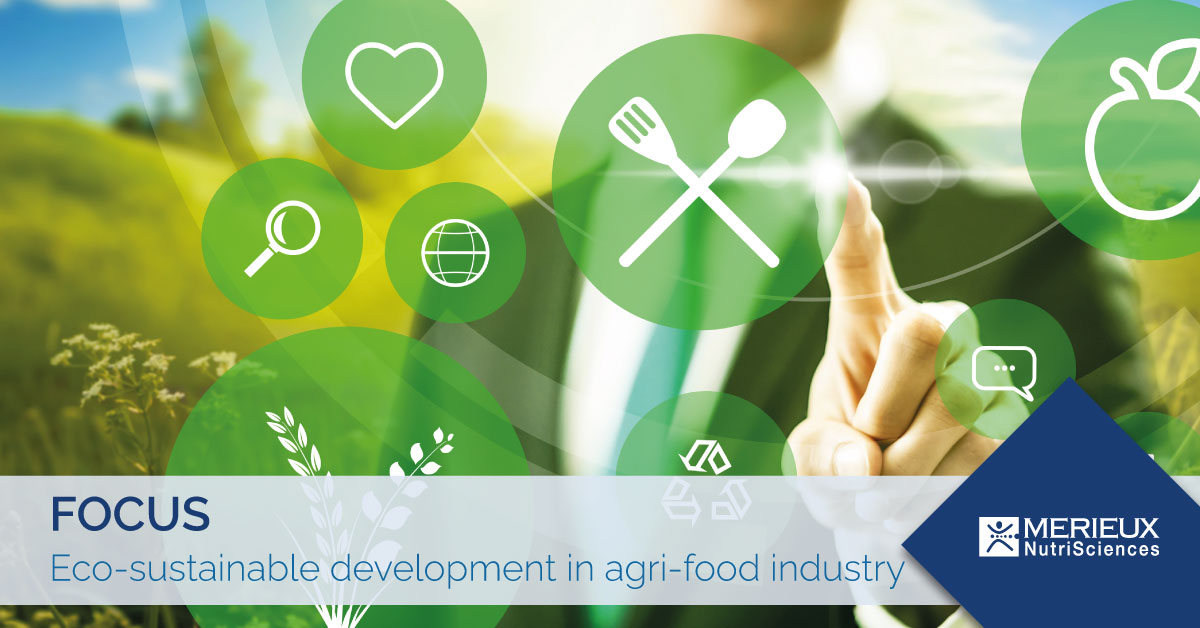 The agri-food industry deals with the production of beverages, semi-finished products and finished food products for human and animal consumption, through the processing and transformation of raw materials from agriculture, forestry, farming and fishing.
IMPACT OF AGRI-FOOD PRODUCTION
Producing food is an activity necessary to meet the nutritional needs of living beings, but it is becoming increasingly UNUSTAINABLE in environmental terms due to the high emissions of greenhouse gases responsible for climate change (Carbon footprint), the excessive water resources used during the entire production cycle (Water footprint) and the enormous land and sea surface used to generate and dispose of the resources and waste that man consumes and produces (Ecological footprint).
The significant environmental impact exerted by the agri-food industry represents a serious threat to the survival of the entire planet and therefore it is essential to make the current food production model more effective and efficient, aiming at the creation of ECO-SUSTAINABLE production systems.
ACTIONS TOWARDS SUSTAINABLE DEVELOPMENT
What are the main lines of action that the agri-food industry can pursue for sustainable development, thus reducing its environmental footprint?
Adaptation and / or design from scratch of food production sites for greater energy and water efficiency. Reducing the use of fossil fuels and greenhouse gas emissions as well as optimizing the quantity of water used for the production cycle and for the sanitation of the plants are the main key factors for eco-sustainable food production.
Process and product innovation through the introduction of new production methods and / or improvement of those used with the aim of making significant changes to existing products, creating new and / or new generation products that meet sustainability requirements increasingly requested by consumers.
Procurement of raw materials and food ingredients from sustainable and certified primary activities in order to protect the biodiversity of the ecosystem and obviate the destruction of habitats, soil erosion, water pollution, deforestation and abuse of manpower.
Use of environmentally friendly food packaging made with recyclable, renewable, compostable and biodegradable materials such as wood, paper, aluminum from forests and sustainable sources and / or innovative packaging made from natural sources such as plants, microorganisms etc. for a lower environmental impact due to disposal procedures.
Reduction of food waste through formulation and / or reformulation of products with a longer shelf life, the use of innovative packaging that reduces deterioration and food recycling within the limits set by sector regulations.
Valorization of processing waste in order to obtain raw materials with high added value, feed, chemicals and biodegradable plastic materials, renewable energy etc. thus favoring the circular economy, the reduction of disposal costs and the safeguarding of the ecosystem.
The transition to an eco-sustainable agri-food production system is a complex and not immediate process that requires commitment, specific training on the subject and discussion with sector experts in order to establish the best strategy to pursue to approach change.