ALLERGENS AND CROSS-CONTAMINATION
Know and manage an evergreen risk of the agri-food chain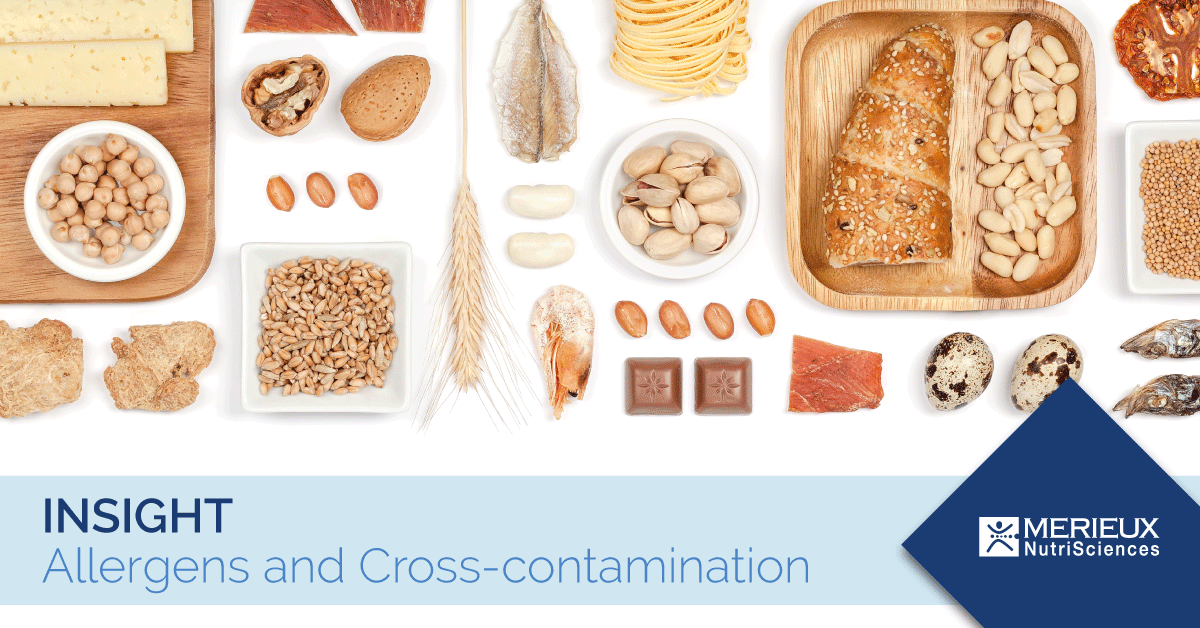 Know and manage an evergreen risk of the agri-food chain
Food allergy is an adverse reaction of the immune system, of genetically predisposed
individuals, to one or more proteins called allergens. The main clinical manifestations
include urticaria, atopic dermatitis, angioedema, asthma, allergic rhinitis, gastrointestinal
disorders and anaphylactic shock.
To protect public health, current legislation (EU Regulation no. 1169/2011) requires food
industry to highlight allergens that may be present in a food, such as cereals containing
gluten, crustaceans, eggs, fish, peanuts, soy, milk, fruit to shell, celery, mustard, sesame,
sulfur dioxide and sulphites, lupins and mollusks (Annex II), both for prepacked and non-
prepacked foods, including those supplied by catering companies or intended for direct sale.
However, the incorrect or absent declaration of food allergens represents 60% of warnings
and food recalls worldwide (source Safety Hud).
Among the main causes, there is cross-contamination that occurs when one or more food
allergens –during more or less complex production processes– accidentally end up in a
food where it should not be present.
To protect against such risk and in the absence of legal limits that regulate the correct
concentration of the 14 allergens, food businesses are increasingly resorting to
precautionary labeling. Through wordings such as "may contain traces of ...", "produced in
an establishment which also uses...", they warn consumers about the possible presence of
an allergen and the way the food is produced.
In some cases, that statement is true and shows a strong sensitivity to the problem by the
food company, but it is very often used improperly by the producers, which in addition to
avoiding legal repercussions of any kind, indirectly prove their uncertainty about the
production cycle management.
Precautionary labeling cannot replace a careful assessment and management of allergen
risk to counter the danger of cross-contamination. To this end, it is essential for the agri-
food chain to respect good manufacturing practices (GMP - CAC / RCP 1-1969, REV.4-
2003) and to implement an effective and efficient HACCP system (Hazard Analysis and
Critical Control Point) allowing the management of such risks through preventive and
control measures during all phases: from purchase and management of raw materials to
production, from transformation to finished product packaging.
The main areas of intervention to eliminate or reduce the risk of cross-contamination by
allergens are:
The correct training, information and supervision of food business operators on
allergen risk;
The careful design and formulation of new products as well as the improvement of
existing ones;
The careful choice and control of suppliers and incoming raw materials (with in-
depth analysis of product data sheets);
The sanitization or diversification of warehouses, production plants, equipment and
company production lines;
The planning of a constant quality control, throughout the production process,
through targeted, efficient and effective analytical plans;
The careful supervision of the packaging and labeling phase of the finished product.
The careful evaluation and management of each phase is fundamental both for the
success of the company production and for the protection of public health.