FREE WEBINAR: NEW AMAZON USA REQUIREMENTS FOR DIETARY SUPPLEMENTS - Regulatory insight and analytical solutions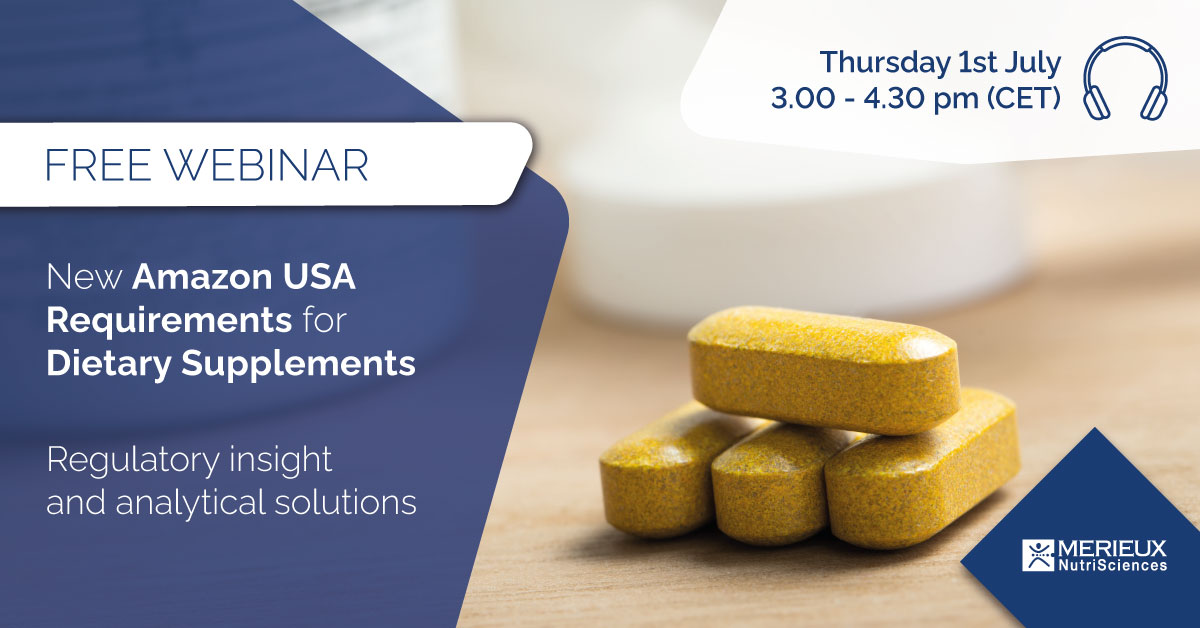 FREE WEBINAR
NEW AMAZON USA REQUIREMENTS FOR DIETARY SUPPLEMENTS
Regulatory insight and analytical solutions
Thursday 1st July, 3.00 - 4.30 pm  (CET) 
Language: English
In November, 2020, Amazon USA notified sellers of their new policy and process for increasing quality standards of Food Supplements sold on their platform. The compliance deadlinse was May 31st, 2021.  With approximately 80% of DS sales transacting through Amazon, new requirements come in response to growing demand  for the company to exercise greater oversight and ensure that dietary supplements sold on their platform are safe for human consumption and not mislabeled, illegal, misbranded, or adulterated.
Going forward, all DS sellers must comply fully with FDA requirements and also prove that all active ingredients be quantified against their stated label amounts.   There are three primary foci:
21 CFR 101.36:  Labeling
21 CFR 111: Good manufacturing Practices
21 CFR 117: Safe for Human Consumption 
Most of the requirements are not particularly onerous.  However, there are several requirements that can be challenging for sellers.  For example,  required analytical documentation, including a Certificate of Analysis,  must come from an ISO 17025 accredited laboratory (including internal labs),  all active ingredients must test to their stated amounts at the minimum, all labels must conform to FDA Dietary Supplement labeling requirements, and compliance records on safety and quality of products must be maintained. 
With a worldwide network of laboratories and regulatory experts, Mérieux NutriSciences can provide a complete array of services to help our customers manage Amazon's new requirements.
Objectives
The objective of this event is to inform and update existing customers and prospects on the new Amazon requirements and present an array of MXNS services that can help them manage these new compliance standards in order to keep selling their products on the Amazon platform.
Target audience
Contract manufacturers,
Distributors,
On-line sellers,
Pharmaceutical industries producing FS.
Topics
Recap on Amazon requirements,
EU and USA regulatory framework with focus on product composition and labeling requirements,
Short comparison on the two framework,
Presentation of MXNS regulatory and analytical services aimed to help Amazon's suppliers to fulfil new requirements.