Mexico: from 1st of October 2020 new regulation for nutritional labeling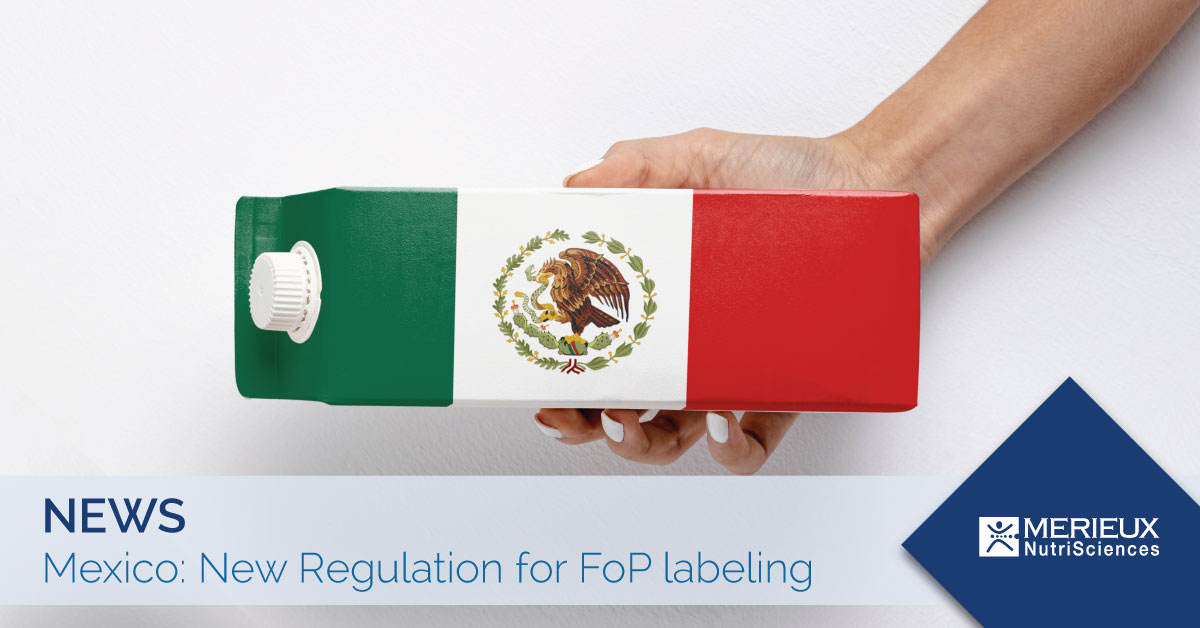 On the 1st of October 2020, the changes made to the standard "NOM-051-SCFI / SSA1-2010 Especificaciones generales de etiquetado para alimentos y bebidas no alcohólicas preenvasados - Información comercial y sanitaria" came into force.
The new regulation, signed on March 27, 2020, provides for numerous changes in the labeling provisions of both domestic and imported foods destined for the Mexican market.
Among the main innovations, the introduction of the mandatory frontal nutrition labeling (FoP), consisting of warning symbols to be placed on the packaging of processed foods if they contain excessive levels of calories, sodium, sugars, trans and saturated fats.

IMPLEMENTATION OF REGULATORY AMENDMENTS
The changes to nutrition labeling on the front of the label (FOPNL) will have three stages of implementation:
The first phase from 1st October 2020 until 30th September 2023 (3 years), requires each producer to calculate and evaluate which of the critical nutrients exceed the levels of the critical thresholds established by the standard for processed foods and soft drinks:

Products containing added sugars will be evaluated based on added sugars and calories
Products containing added fat will be evaluated based on saturated fat, trans fat and calorie content
Products containing sodium will only be evaluated based on the amount of sodium added

During this time, warning symbols indicating excess nutrients should be placed in the upper right corner of the front of the product packaging, based on the number of product signs.

The second phase from 1st October 2023 until 30th September 2025 (2 years), provides for the same provisions as Phase 1, but the critical thresholds to be considered are more restrictive.
Phase 3, from 1st October 2025 onwards, provides the same critical thresholds as Phase 2, but the scope extends to all food products and non-alcoholic beverages, whether they have added sugar, fat and / or sodium or not.
EXEMPTIONS FROM FRONTAL LABELING
The following products are exempt from the obligation of front labeling:
Infant formulas (including those for special nutritional needs) and follow-on foods (including those for special nutritional needs)
Infant foods and beverages covered by nutritional specifications for one of the following nutrients: fat, sugar and sodium as set out in applicable regulations
Vegetable oils
Animal oils and fats
Sugar and honey
Iodized salt and iodized and fluorinated salt
Cereal flours
VARIATIONS OF NUTRITIONAL SYMBOLS
In the case of packages with a front surface ≤ 5 cm2 the warning symbols will be replaced with one of the following, based on the number of critical nutrients that exceeds the threshold values:

HEALTH CLAIMS
As of April 1st, 2021, health claims will be banned for all products with one or more warning symbols. As for nutritional claims, they will still be accepted provided that they do not refer to critical nutrients that exceed the limit thresholds.
Until March 31st, 2021, operators responsible for labeling may temporarily resort to the use of stickers to comply with the front labeling requirements.